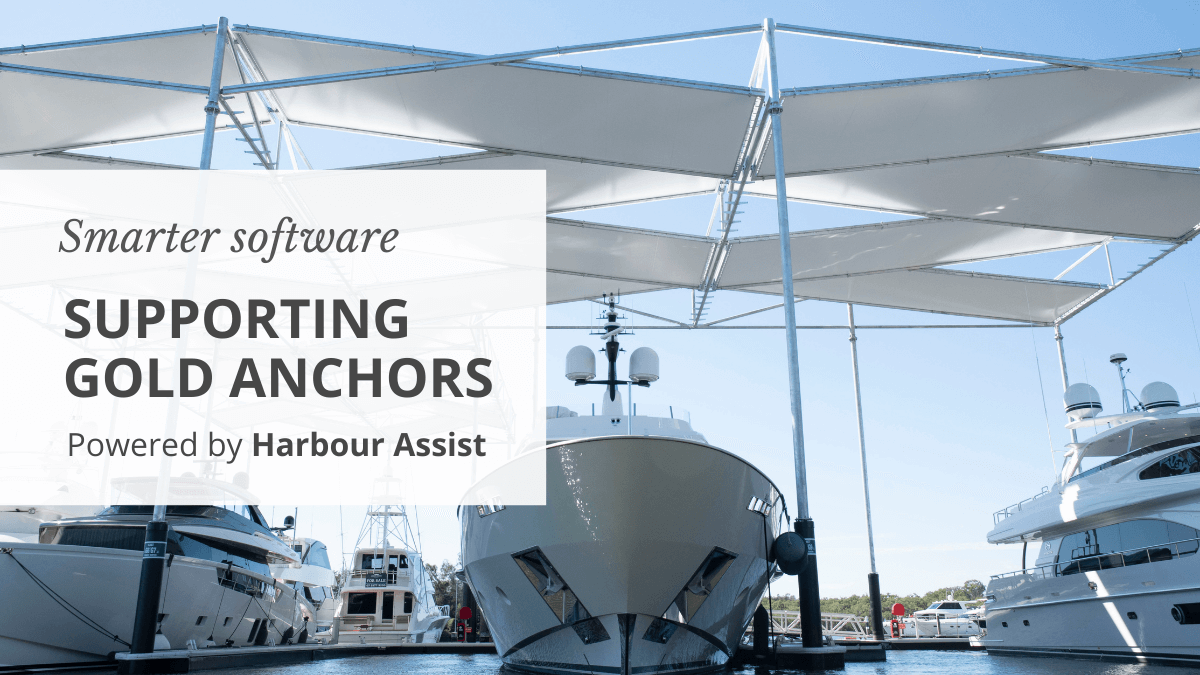 Gold Anchor Scheme – the ultimate marina experience
How software supports accreditation
The Gold Anchor Scheme is a global marina accreditation designed to improve marina standards and the experience of marina users. Like hotel star systems, awards range from 1 to 5 Gold Anchors, with Platinum the ultimate accolade.
Over 200 marinas in 27 countries are members of the Scheme, with a strong showing across Australia, the UK, Europe, the Middle East and Asia. We spoke with two accredited marinas: Shepperton Marina, a 5 Gold Anchor family-owned marina on the River Thames near London, and Platinum-awarded Sanctuary Cove Marina in Queensland, Australia.
Accreditation
With a rigorous multi-day audit process every three years, marinas with Platinum or 5 Gold Anchor accreditation are operators at the top of their game. Not only does the top award signal the quality of the facility to boaters, but the accreditation process is also a valuable learning opportunity for managers.
The audit assesses six key areas – ambience, policies and procedures, customer service, environmental and on-shore facilities. As well as scoring the physical characteristics and qualities, assessors look for documented evidence. And this is where good software can help.
Customer Service
Delivering an excellent customer experience is ideal for recruiting and retaining customers, differentiating your location, and optimising pricing. As we've said in previous blogs, customer service is about people and processes.
Processes enable you to deliver consistency, treating customers equally, or delivering enhanced service to specific groups. At Sanctuary Cove, Platinum Members pay a premium over their berthing fee to access country club facilities and even at-berth room service. A dedicated marina concierge looks after Platinum Members and superyacht captains. "A large part of customer service is a good CRM system", says Steve Sammes, General Manager at Sanctuary Cove. "Our marina concierge uses Harbour Assist for all communications, drilling into the CRM to deliver the special contact our customers expect."
Lisa Harris, Marina Manager at Shepperton Marina, develops the theme: "Consistent customer service is key", she explains. Shepperton ensures consistency with checklists for everything and Smart Lists for monthly arrivals and leavers reports. "Everyone gets the same welcome letter, arrival information, and grand tour. We're very much an informal family-run marina, and our goal is for everyone to leave the office happy and laughing", Lisa adds.
Audit trail
"An important part of the Gold Anchor audit process is the ability to record every facet of how you run the place", states Steve Sammes. Marinas need to prove robust and auditable systems to achieve a high score in the assessment.
Example creiteria from the Gold Anchor program:
Criteria 2.11: 'An integrated, organised, and documented maintenance system is in place'.
Criteria 2.15: 'A documented staff training programme is in place'.
Criteria 3.02: 'Electronic enquiries are responded to within 24 hours'.
These criteria can all be captured in Harbour Assist and reported on as required. The Inspection Manager is built for maintenance regimes and transparent reporting and can also track staff training. And with all in and outbound communications automatically captured in Harbour Assist, proving email response times is straightforward, especially with the extra nudge of Tasks.
"We're always adding more maintenance to Harbour Assist via Inspections, even de-fluffing the tumble dryers", Lisa Harris explains. "At our recent health and safety inspection, the officer was impressed by the transparency of the maintenance history and how Tasks mean checks don't get forgotten."
Software won't do the hard work for you, but the right package makes the day-to-day admin less of a burden, freeing you up to concentrate on a superior customer experience.
And it's that extra time for the detail that will deliver Four, Five or even Platinum Gold Anchor accreditation.
"I would say that Harbour Assist complements the Gold Anchor Scheme. It's comprehensive and all-encompassing."

Steve Sammes, General Manager, Sanctuary Cove Marina
"I feel that Harbour Assist is the most suitable system for a Five Gold Anchor Marina."

Lisa Harris, Marina Manager, Shepperton Marina
More about the Gold Anchor Scheme
The Gold Anchor Scheme is jointly administered by MIA in Australia and TYHA in the UK:
How can we help your business?
If you'd like to talk about how Harbour Assist can help you to become a top-rated marina, email Nick Gill to start a conversation.