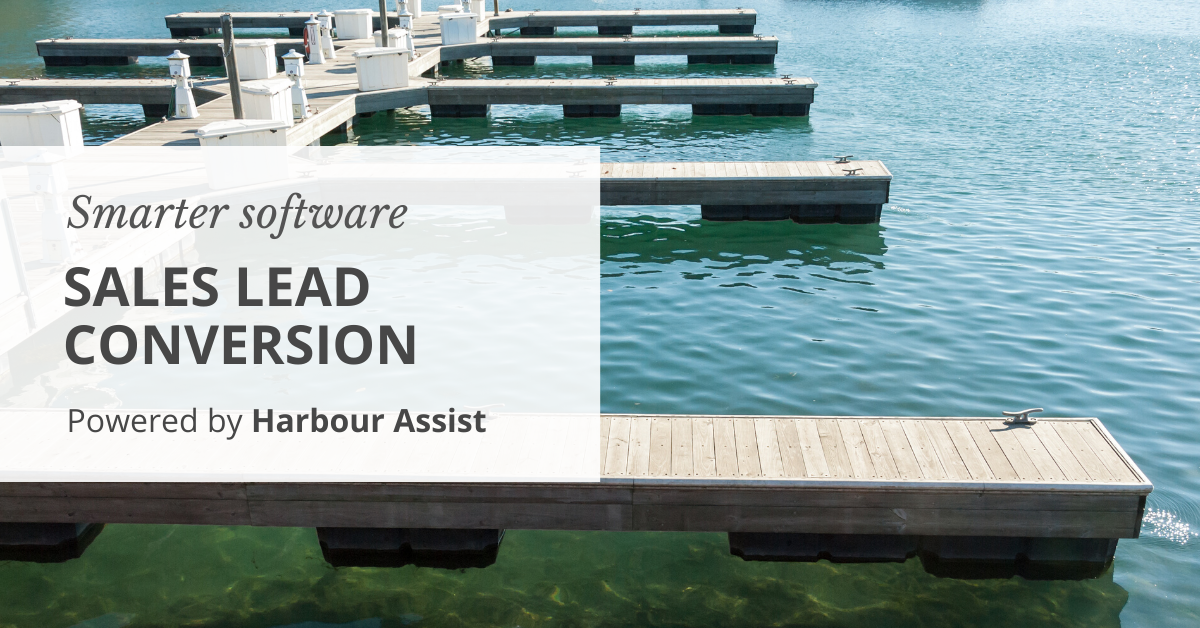 Maximising occupancy
Building and converting sales leads
With coronavirus restrictions hitting marina income, it is more important than ever to make the most of customer enquiries. So how do you create enquiries and then convert them to paying customers?
The key to success is being systematic. A robust lead management system combines human interaction with automated data handling to deliver timely, consistent and friendly customer service that converts into contracts and income.
What marinas need:
Increased number of enquiries
Enquiry delivered direct to the right member of staff
Automatic logging of the lead and communications
Customisable templates for a speedy response
Simple lead reporting by source, date, site or status
Seamless conversion into contracts
Increasing enquiries
To get more mooring or boatyard enquiries, you need to do two things:
Tell potential customers about your offering
Make it quick and easy for them to register their interest
The first part is all about marketing – how and where you promote your services is an art in itself, but a good place to start is with your website. Whether you drive traffic to your website from social media or advertising or focus on compelling content, it's your choice.
But if you don't include an enquiry form on your landing page, you're missing a big trick. Harbour Assist customers can embed a customised enquiry form on any page of their website – see this example from Castle Marinas.
Castle Marinas have two clear calls to action on the header of every page:
Pay Online is a link to the customer Portal
Get a Quote is a link to the Harbour Assist enquiry form.
These work perfectly on laptop or mobile. Good, sensible website design.
Enquiry handling
Successfully converting enquiries needs a mix of customer service, sales and boat know-how. Sometimes the marina manager has the right skills mix, and sometimes it's the administrator. If you're lucky, there a couple of people to share the task. Regular coaching and the odd 'mystery shopper' exercise helps with product knowledge and confidence.
Time is critical. Boat owners aren't willing to wait a week or even a couple of days to get a reply – if you want to book a hotel room you'd expect an answer by return, and marina customers are no different.
If your system relies on Post-It notes, forwarded email chains and voicemail, you will struggle to deliver the standard of service that customers expect. And if your enquiry team are working from home, there's even more opportunity for the message to be mislaid.
Tardy, inconsistent responses reflect poorly on your brand.
Harbour Assist removes the ambiguity and alerts the enquiry team every time a request is submitted online. Leads are automatically created as Tasks, visible to the user and their manager in the Tasks menu. Email or SMS alerts can also be sent to the user – there are no excuses for a sluggish response!
Keep it together
The key benefit of embedding the contact form into your website is the seamless transfer of data into the main customer database and the Tasks function.
There are plenty of good third-party contact forms available as website plug-ins, but at some point, data will have to be transferred manually into the customer database. This is a duplication of effort and increases the potential for human error like misspellings and simply forgetting to enter the data. It is also not efficient nor good practice to have separate databases for customers and enquiries, for obvious reasons.
Alongside the automatic logging of contact form submissions, enquiries via phone, email and face-to-face can be entered as a lead, with the source and interest selected from drop-down options. All correspondence generated through the system is automatically attached to the customer record, creating one unified source of information for all users. 
Customisable responses
Every customer is an individual and should receive a tailored reply – no-one wants to get a 'Dear Sir/Madam' type email. That doesn't mean that every communication has to be written from scratch. In fact, having a standard response that can be customised with free text and merge fields is more likely to be consistently successful.
Before sending any type of communication, it is best practice to check the customer database to for the previous history. A regular visitor will need a different response to someone who has just bought a boat or just moved to the area. Why not create more than one enquiry response template?
What you include in your response and the style of writing will be specific to your organisation, and we recommend you include:
An acknowledgement of the customer's specific questions or boat particulars
Details about the marina facilities
Background information on the local area
Details of suitable berths
Pricing and payment options
Availability or wait list details
Any benefits or discounts for residents
A call to action
Lead reporting
Understanding the source of your leads, how the volume changes over the year, the services people are interested in and the success rate of conversions will help marina managers to deploy money and people more efficiently. Having this data will influence your marketing spend and strategy, staffing levels and resource allocation.
Multisite marinas can track the interest levels across their estate, shifting promotional spend and resources between sites to maximise occupancy.
Convert enquiries
Once you've convinced the customer that your marina is the perfect home for their boat, you want to be able to raise contracts and invoices straight away. Simply click the 'Convert to Account' button on the Account page, and you're good to go.
We know that the lead process is a vital part of building and maintaining occupancy, and our aim is to provide a comprehensive solution. It is easy to be seduced by stand-alone products, but the central principle of a single database accessible to all staff will always deliver higher quality customer service.
How can we help your business?
If you'd like to talk about how Harbour Assist can help your business to connect with your customers, email Nick direct nick.gill@harbourassist.com