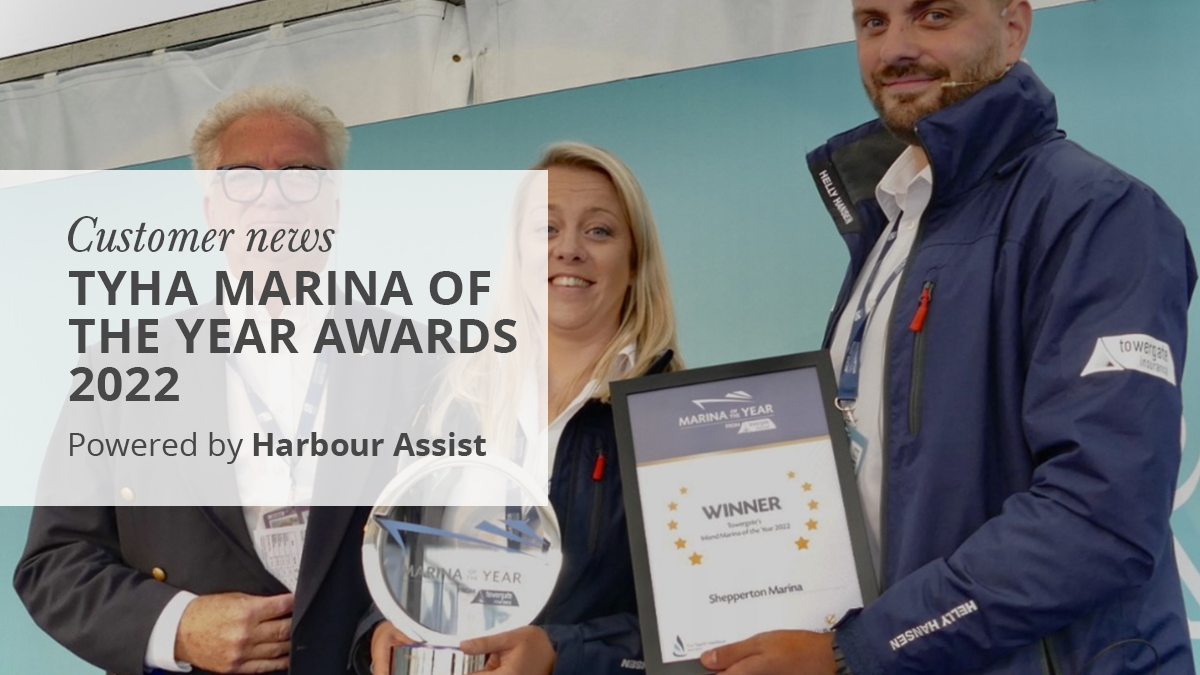 The Yacht Harbour Association Marina of the Year Awards 2022
Harbour Assist helps their customers scoop 1st place in 4 out of the 6 categories
Harbour Assist would like to offer huge congratulations to all the winners and runners up of the The Yacht Harbour Association Marina of the Year Awards 2022.
Some of the Harbour Assist team were able to attend the awards ceremony which took place at the Southampton International Boat Show in September and it was fantastic to see our own customers scoop 1st place in 4 out of the 6 categories!
Shepperton Marina
Towergate's Inland Marina of the Year 2022 award went to Shepperton Marina and Marina Manager, Lisa Harris, was delighted to collect the award. Shepperton Marina have been using Harbour Assist since October 2019 and Lisa believes that this has helped them achieve the award.
Lisa says "Shepperton Marina was proud and excited to be announced as Inland Marina of the Year 2022 at Southampton Boatshow. I believe that our Marina Management System, Harbour Assist, has played an integral part in us achieving this award due to the way we can deal with both customer contact requests and information, as well as the maintenance and fault logging capability, enabling us to allocate tasks to specific departments and/or staff members, increasing staff efficiency and productivity."
Emsworth Yacht Harbour
The winner of Towergate's Coastal Marina of the Year 2022 – Under 250 Berths for the second year running was Emsworth Yacht Harbour. Emsworth implemented Harbour Assist in February 2020 and have embraced all the features of the system, including the planned maintenance side of things. Alison Wakelin, Managing Director, collected the award on behalf of the team at Emsworth.
Alison commented "We are delighted to receive the award for Towergate Coastal Marina of the Year, under 250 berths, for the second year running. We try to continually improve both our facilities and our customer service and Harbour Assist is an important part of our strategy for doing this. It provides an effective way of administering our accounts while allowing us to communicate clearly with our customers, particularly with the new Smart List functionality. We find the Inspection regimes invaluable for managing our planned maintenance and the Task options allow us to keep up with the myriad jobs that need doing on a regular basis. This award is very special as it is voted for by our customers and by making our marina management processes more efficient Harbour Assist allows us to spend more time answering customer concerns, organising customer events and generally keeping everyone happy".
Royal Quays Marina
Receiving the award for Towergate's Coastal Marina of the Year 2022 – Over 250 Berths Winner was boatfolk's Royal Quays Marina (for the third year running!). Royal Quays Marina are a long-standing Harbour Assist customer, using the system since February 2017. Matt Simms, Marina Manager at Royal Quays collected the well-deserved award.
Matt commented "The customer is at the centre of everything we do at boatfolk. Our systems need to support our efforts to deliver great service and Harbour Assist is key to achieving this. The communications platform is easy to use allowing us to send emails and SMS to targeted groups, particularly now we have the use of Tags. Our boat yard relies on accurate scheduling, with the Task engine providing the tool to schedule lifting operations. Maintenance of our equipment is essential too, with the Inspection Manager and Fault Manager tools making it easy to keep up with maintenance and fault rectification. Just a few of the many benefits of using Harbour Assist".
Bucklers Hard Yacht Harbour
Many congratulations to John Selman of Beaulieu River, Bucklers Hard Yacht Harbour on winning the Towergate's Marina Employee of the Year 2022 award. Beaulieu River are another long-standing Harbour Assist customer who have been managing their busy operations using the system since April 2017.
John says "I am immensely proud to have received this award, as I'm always striving to be as helpful as possible, to help our customers to get the most out of their time on the Beaulieu River. It's really important to me to give sailors and visitors the best possible experience I can. I always aim to work with a smile!".
Beaulieu River Harbour Master Wendy Stowe commented "What makes John stand out is that he'll make time for anybody and everybody, and enjoys nothing more than talking about his passions of boats, bikes and classic cars. The organisation is very lucky to have him on the team, and is grateful for all of the enthusiasm and hard work he brings to the river".
Kip Marina
Finally, a mention must also go to Kip Marina for their 3rd place in the Towergate's Coastal Marina of the Year 2022 – Over 250 Berths category. This comes hot on the heels of achieving 5 Gold Anchor status earlier this year. Holt Leisure Parks who own Kip Marina have been running all three of their marinas using Harbour Assist since November 2020.
How can we help your business?
If you'd like to find out how Harbour Assist can help your business, email Nick Gill [email protected]
Tags In