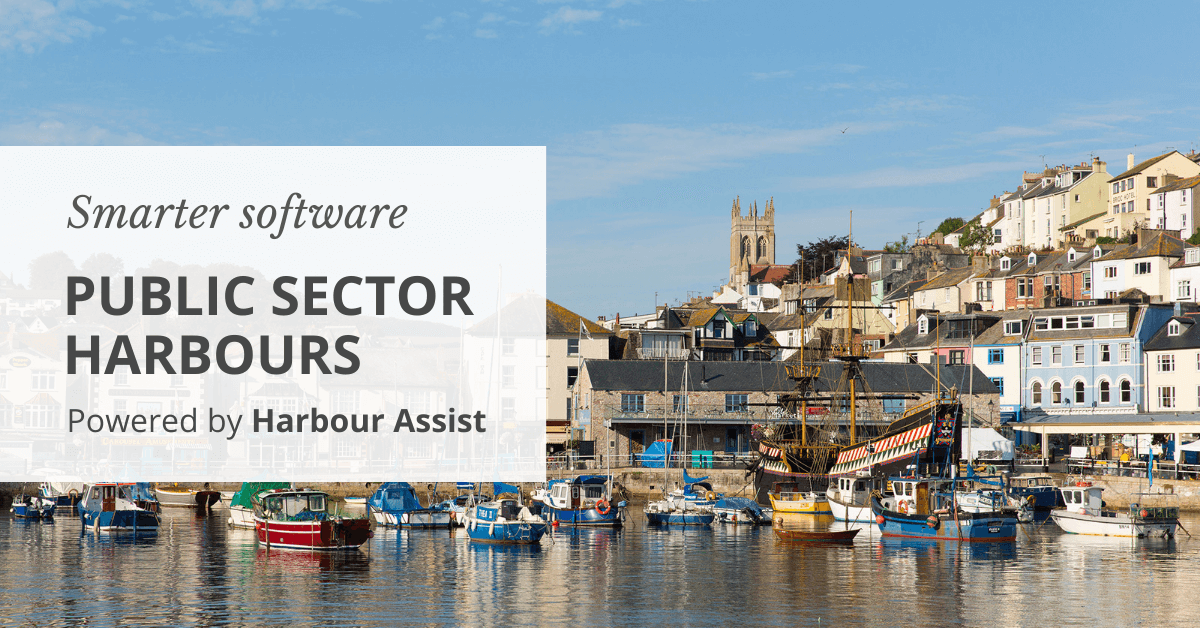 Unique challenges & opportunities
Public sector harbours
Not all marinas are owned and operated by companies. Many government departments, local authorities and public sector bodies like trust ports also manage a significant number of facilities.
Challenges
While the day-to-day activity of maintaining and managing harbours is the same for all operators, public sector organisations can be driven by metrics other than simple profit. For example, the maintenance of historic structures, public access and rights of way, prioritisation of local communities, wildlife conservation, pollution control and flood risk management.
Public sector-managed harbours may also be bound by processes imposed by local or national government. These constraints may include a lack of investment in technology, infrastructure and people, an inability to raise invoices and manage receipts at a local level, and a lengthy decision-making process. The requirements for transparency and visibility when handling public money and assets are often more rigorous than for private companies.
Experience
Harbour Assist is used by 32 harbours run by public bodies including councils, trust ports and charities, with well over 10,000 moorings and berths under management.
Local authority harbours that use Harbour Assist include Cornwall Council's seven harbours and 2,000 moorings, Thanet Council's three harbours and 700-berth marina, three harbours run by Tor Bay Council and Hampshire County Council's Hamble River with 630 moorings.
Trust port customers include Cowes Harbour, Chichester Conservancy, Tarbert Harbour, Dart Harbour, Fowey Harbour and many more. Christchurch Harbour is run by SW Lakes Trust, a charity.
Sharing knowledge
There's nothing wrong with Excel, but it isn't the most effective tool for managing a portfolio of assets and customers. It's all too easy for silos of knowledge or know-how to develop over the years, separating team members and departments.
Concentrating information within discrete teams initially appears an efficient use of resources. However, removing silos and linking people through shared knowledge is more powerful, providing the foundation for a flexible and adaptable structure and more effective allocation of resources.
Increasing efficiency
Cornwall Council's harbour team used to take two weeks to complete the invoicing of over 900 annual moorings, "Now it takes two days" said Senior Maritime Assistant, Katrina Tonkin.
Reducing debtors and improving cash flow is a natural benefit: "More customers are naturally switching from stage payment to payment in full," said James Platts, Director of South West Lakes Trust. "This means we get income earlier in the year and fewer contract drop-outs."
Reducing the administrative burden enables harbour operators to decide how to use their resources more effectively. Reducing back-office roles or redeploying resources to income-generating or maintenance-focused activities.
"During Covid-19 we had five staff working entirely from home"
Flexible workforce
"During Covid-19 we had five staff working entirely from home, able to do all of their usual work with customers, invoicing, taking payments and monitoring asset maintenance," said Ed Walker, Deputy Harbour Master at Cowes Harbour Commission. "We've utilised the asset inspection function to provide our patrol officers with clear tasks and satisfy our Covid-19 policies, while also giving managers remote monitoring of inspection regimes and oversight of issues occurring".
The smaller St Mary's Harbour on the Isles of Scilly is also benefitting from Harbour Assist: "We've gone away from paper-based maintenance tracking," said Harbour Master Dale Clark. "The asset maintenance module drives our weekly and monthly checks, with each inspection having a detailed briefing and checklist so that any team member can complete a relevant task".
Making the change
Moving away from a legacy system, whether Excel, paper or server-based is a big change for an organisation and a challenge for staff. But recent events have shown that embracing adaptability and resilience is vital for survival. Public bodies will need to be able to reallocate resources, reduce operating costs and improve cash flow to balance the books.
Read case studies featuring a range of Harbour Assist users from the 18-site Aquavista group (ex-BWML) to charity SW Lakes Trust, along with news and updates on our website harbourassist.com.
How can we help your business?
If you'd like to talk about how Harbour Assist can help your business to connect with your customers, email Nick direct nick.gill@harbourassist.com