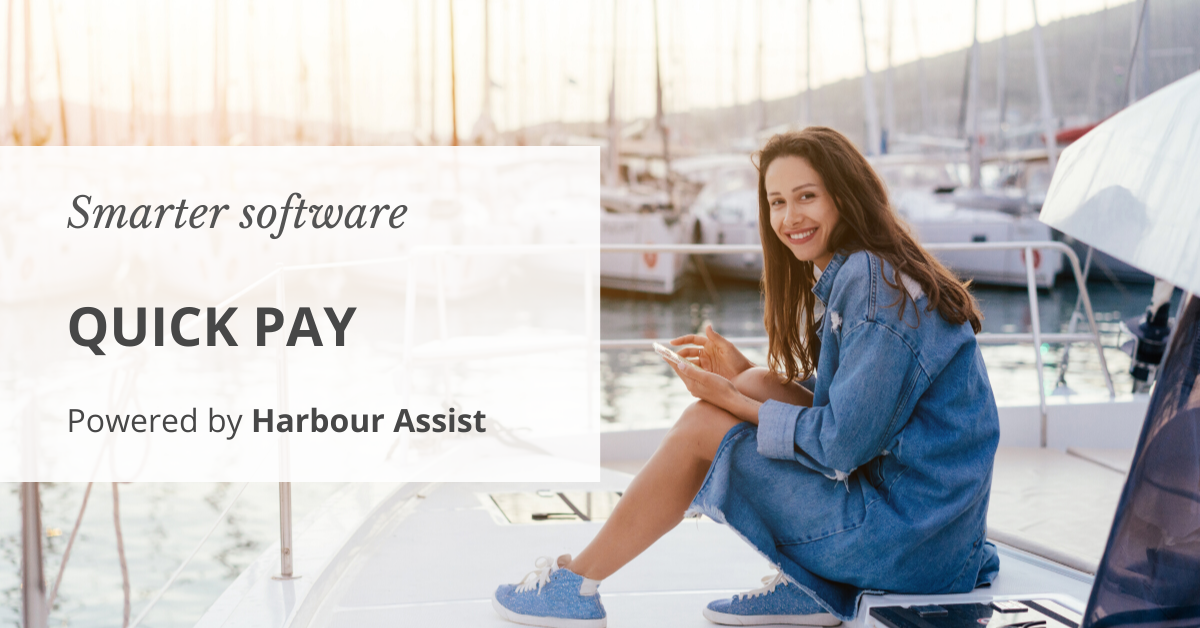 Quick Pay: Getting paid faster
Cut the wait and get paid in seconds
Is cash-flow important to your business right now?
Are you happy about customers trying to visit the office?
Do you have time to chase payment for invoices?
What if you could email or even SMS an invoice so the customer can pay by return?
We launched Quick Pay in March, just as the Covid-19 restrictions came into place around the world. With cash flow more important than ever, Quick Pay has been a bonus for Harbour Assist users.
4 simple steps
With Quick Pay, any customer can pay online in seconds. No need to log-in to the Portal, just straight through to the payment gateway.
Steps:
| | |
| --- | --- |
| ✓ | Book the berth, pump fuel, complete the engine service. Raise the order and send the invoice by email or SMS. |
| ✓ | The customer opens the invoice and clicks the link to go direct to the payment provider. |
| ✓ | The customer enters his card details and completes the payment. |
| ✓ | Automatic reconciliation of invoice and payment. |
Quick Pay – marina team raise order and click 'Quick Pay SMS'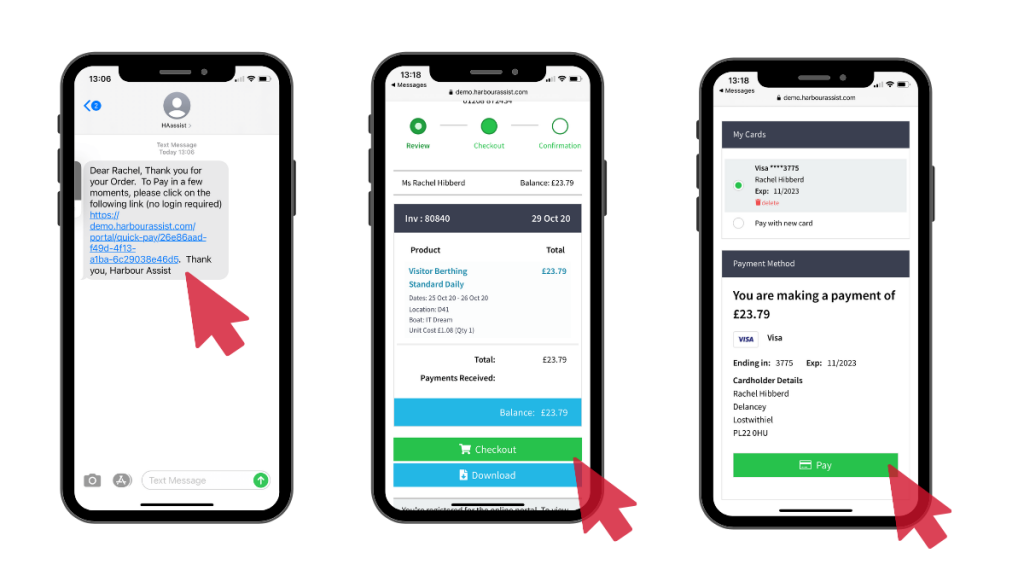 Quick Pay – customer receives SMS and clicks direct to secure payment
We've timed it – 30 seconds from pressing 'send' to the payment receipted.
It's easy for the dockmaster, and it's easy for the customer.
Standard features
Quick Pay is available for all Harbour Assist users.
The big green QUICK PAY button is automatically embedded in all standard email invoice templates and can be added to bespoke templates.
SMS invoicing is available for all users. The standard SMS fee applies to all texts sent. Quick Pay links can also be sent in emailed invoices.
Regular customers can choose to save card details to the secure vault. Payment can be taken from saved cards by entering the CCV numbers only – much quicker than entering the full card number.
How can we help your business?
If you'd like to talk about how Harbour Assist can help your business to connect with your customers, email Nick direct nick.gill@harbourassist.com