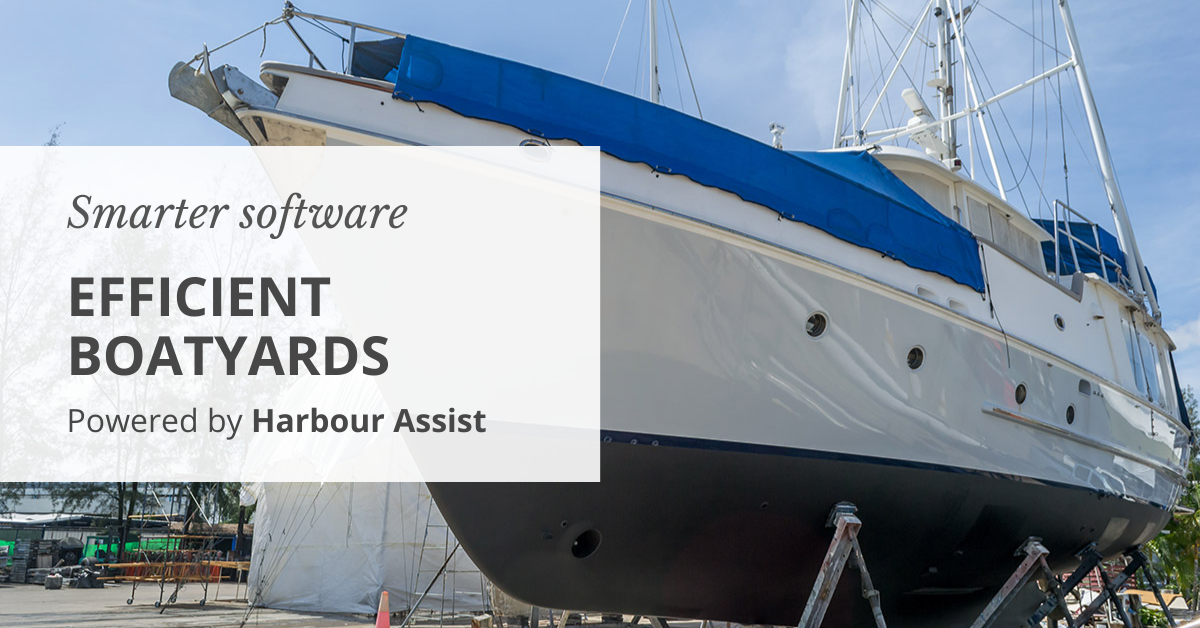 Boatyard and shoreside operations
Delivering more efficient boatyards
Boatyard revenues from lifting services, storage ashore and boat maintenance are an essential part of many marina businesses. In some cases, shoreside operations are more complex than wetside, contributing more income and carrying higher staffing and equipment costs.
Providing the right tools for boatyard teams, whether software or hardware, increases the potential to maximise efficiency, driving down costs and increasing revenue.
Boatyard vs marina
Boatyards can be seen as the poor relation to the more glamorous marina, and it isn't uncommon to find yards managed with desk diaries when the marina has been using software for years. Lack of investment in boatyard systems leaves managers unable to allocate resources effectively, bill accurately and deliver decent customer service.
Part of the problem has been with legacy software packages that have different modules for each element of the business. While a modular approach initially sounds attractive, the reality can be more expensive and create barriers between the marina and boatyard.
A flexible approach
Harbour Assist takes a more flexible, customer-centric approach. Marinas can deliver any number of services to their customers using completely customisable price books, tariffs, assets and teams. Indeed, Nanny Cay Resort in the Caribbean chose Harbour Assist as their marina, boatyard and hotel system.
Adrian Sinton, IT manager said, "We really liked the way Harbour Assist works across all our different departments; consolidating customer relations, accounting and debt chasing procedures into one system".
Boatyard services are part of the central customer record, providing a seamless history of activities and transactions available to all staff.
Delivering boatyard services
Marinas of all sizes and types use Harbour Assist for boatyard operations, mainly lift and storage, but also maintenance and servicing. Tolchester Marina runs a full-service boatyard and maintenance facility in Maryland.
They use Harbour Assist for raising estimates, invoices and contracts for all types of work, with a specific price book customised for both length-based and flat-rate jobs, labour hours and parts.
The tasks function is used for allocating work to employees and teams. VP, Aaron Bramble said, "It is excellent for scheduling jobs like hauling and launching, for blocking-out specific hours to work on a customer's vessel, and for diarising maintenance tasks".
"Just like in the marina, boats can be scheduled to occupy specific space ashore for a set period, and moved seamlessly between the marina and yard."
Boatyard equipment
The Assets feature comes into its own for boatyard equipment. Listing hoists, cranes, boat movers and cradles means these can be allocated to specific jobs. For example, the hoist between 9am and 10am and the cradle from 1 September to 31 March. Double-booking and schedule clashes are a thing of the past.
Importantly for site health and safety, each asset can have an inspection regime, individual defect log and scheduled maintenance, providing a transparent record and reminder system.
Boatyard features:
Single customer record across all departments
Customisable price book and tariffs for any activity
Raise estimates, invoices and contracts
Allocate tasks to teams and individuals
Asset inspection regimes and scheduled maintenance
Boatyard occupancy reporting
How can we help your business?
If you'd like to talk about how Harbour Assist can help your business to connect with your customers,  email Nick direct nick.gill@harbourassist.com