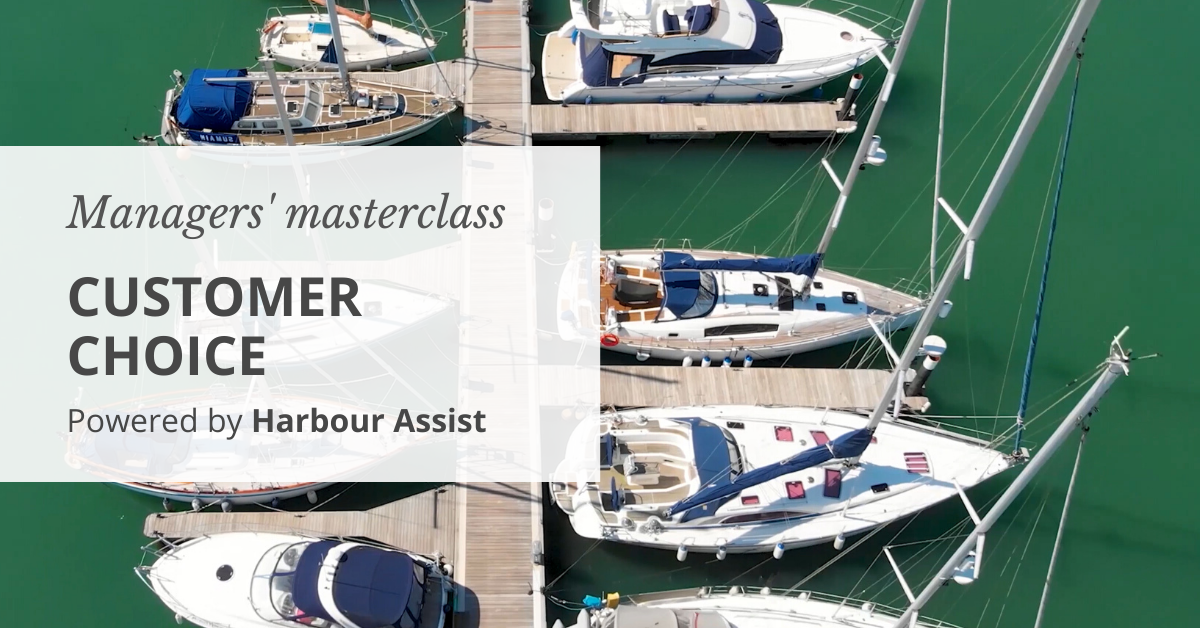 The benefits of customer choice
Let customers choose how to pay
Customer choice is a big thing.
Choice is everywhere, even when you know what you want – the type of milk in your coffee, a hotel room with or without sea view. Making a choice gives customers the illusion of control, and the warm feeling that our needs are central to the supplier.
How can marinas offer customers choice?
Unlike coffee shops and hotels, marinas tend to offer a more one-size-fits-all product – there aren't many marinas with the nautical equivalent of both budget rooms and penthouse suites. Marina managers can offer a south- or north-facing berth, but only when space allows. The more occupancy levels improve, the fewer choices are available. It is a dilemma.
The challenge for marinas is how to help customers feel both in control and valued by offering real choices within the constraints of marina operations. Payment can be a way for marinas to provide customers with choice. Not over whether to pay, rather over the method of payment.
Payment choices are real choices for your customers
Payment methods
There are lots of factors that affect how customer feel about different payment methods – accumulating reward points, managing cash flow, interest rates and personal convenience. Enabling customers to decide for themselves how to settle their bills treats them like a valued part of the business and can take the sting from the payment process.
There are also issues for marinas to balance when deciding what payment methods to offer – like costs, interest rates, processing time and debtor analysis. A scheme with a fee or percentage per transaction may not look initially attractive to the finance team. However, if it is quick to administer and reduces aged debtors, then staff resources could be reallocated and cash flow improved keeping the finance team happy.
If customers also find payment quick and easy to use, then you're tearing down the barriers to sale and helping support customer retention.
What are Harbour Assist marina operators doing?
Marina operators have processed almost a quarter of a billion Pounds Sterling through Harbour Assist in the last three years, and this volume of data provides some interesting insight.
As technology advances, you might expect a downturn in cash and cheque receipts. While marinas are taking less cash as a total of sales, cheques remain at slightly under a fifth of all transactions.
Counterintuitive? It's worth remembering that many UK boat owners are Baby Boomers and like the formality of writing out and handing over a cheque. It may require a trip to the bank, but receiving a cheque is a great opportunity for a conversation and some super customer service.
In some marinas over half of all income comes online.
Online payment
Not all customers want to stop and chat. Convenience drives the take-up of Harbour Assist's online portal – the ability to check invoices and make payments 24-7 anywhere in the world.
Customers receive invoices by email and click through to the secure portal to make the payment, all automatically receipted. Set-up some well-worded automated responses and you're delivering choice, control, convenience and the warm-and-fuzzies.
Some customers add a portal access button to their website homepage, so customers can view statements and pay outstanding invoices at any time.
How can we help your business?
If you'd like to talk about how Harbour Assist can help your business to connect with your customers,  email Nick direct nick.gill@harbourassist.com