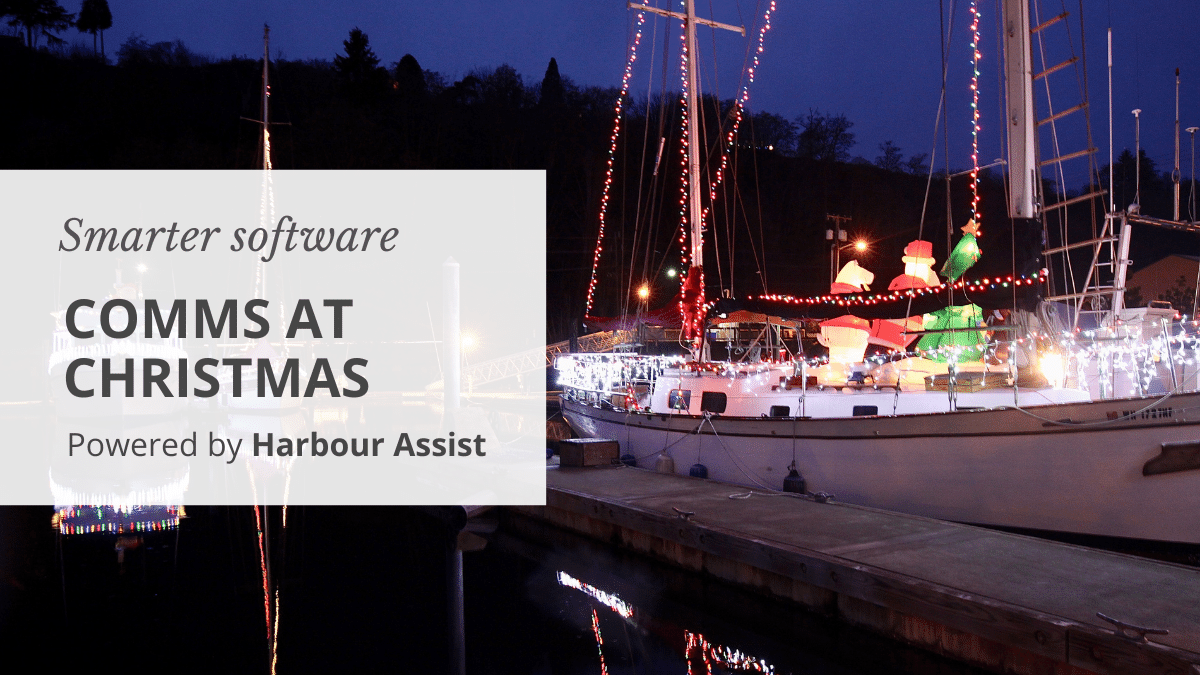 Be a smarter Santa!
No limits on your email communications
The holiday season is always a peak time for business communications. For some 31 December is year-end, and for most it's quarter-end, so there is all the usual invoicing, payment reminders and debt chasing.
Winter is a key period for annual berthing renewals too. Mooring managers with January start dates will be getting the last customers over the line, while April renewers are bagging early bird offers and warming-up their customer base.
Then, of course, there are festive communications, Christmas cards and email newsletters. It's a great time to catch customers at home, contemplating their plans for the coming year.
95,375 emails whizzed out from Harbour Assist in the last 30 days
Sack-loads of emails (and letters)
In the last twelve months, Harbour Assist has handled masses of emails. The busiest day of 2021 was 4 January, when a whopping 34,070 emails pinged out from marinas and harbours to boaters via our system.

Volume isn't a problem. Our electronic elves can deliver sack loads of emails in Santa-quick time. Invoices, emails, newsletters, contracts. Quick notes, bulk emails or beautiful graphics. With attachments or without. All of it.
And there's no extra cost for sending emails. It's all included in the software subscription.
It's got to be quick, and it's got to be easy
Handling bulk communications has to be easy, so time can be spent on the message, not the process.
You need to easily identify your audience – the entire database or only boats on dock B? Customers who have agreed to renew or 30-day debtors?
Use Smart Lists to segment your database, target the right contacts and get your message out.
Unlike a static list of contacts, Smart Lists are always up-to-date. There's no need to cross check your data or export to Excel or merge lists – as long as you've updated the record in Harbour Assist the system knows who is on dock B or owes over 30 days or is up for renewal.
You can send thousands of emails, SMS/texts or letters confident that they're going to the right people. And with the built-in GDPR tools, you can be confident that your marketing and operational communications are fully compliant with privacy regulations.
The average open rate is 70%, so we know communications are getting through
Are you being heard?
We've noticed that customers sometimes don't receive emails, or claim they haven't. Especially when the content is about monies due. Funny that.
All the opens and clicks from your emails (and any bounces too) are tracked, so you know who is reacting and who needs an extra nudge. Our high level stats tell us that marina and harbour comms are getting through – over 99% successful deliveries and 70% average open rate is pretty impressive.
Every email, letter or SMS/text sent through the system is automatically logged; stamped by date, time and user. Incoming emails are easily forwarded to the customer record, and telephone and meeting notes added manually, making Harbour Assist the single reference point for all customer communications, inbound and outbound.
We know that communications are central to modern businesses, that's why we built them into Harbour Assist from the get-go.
There's no point having a great database if you can't send out emails or have to refer to another system, is there? No. we don't think so either.
How can we help your business?
If you'd like to talk about how Harbour Assist can help your business to connect with your customers,  contact us for a chat.